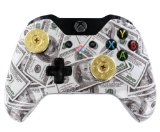 In order to be a successful competitor, Gimika Inc makes it our business to equipped gamers with exceptional performance with our top of the line exceptional quality painted video game controllers.
We feel that rich graphics shouldn't only be in videogames, so we invented our own brand of IN-House Factory Paint for our controllers that displays the same finishes found on six figure vehicles
Gimika Inc strategizes heightening your level of playing ability by allowing gamers to use the only mod technology that encourages thousands of combinations to be made between four mods, giving players the options necessary to create new combinations if so desired. Offering UN-MODDED controllers as an option to cater those gamers who only want an ordinary inuqe cosmetic finish.
Proudly made in the USA, GIMIKA uses only original controller shells for our custom controllers. Our controller shells go through a 6-stage process to ensure quality. Taking nearly 72-hours to construct and paint, our controllers are painted in a professional paint booth and built in our state-of-the-art clean room facility.
All GIMIKA controllers are made to order. European customers will have transit times of 2-4 business days from time of build completion. As we ship worlwide, transi time outside of Europe can be extended by an exta day.
Gimika is proud to introduce a full line of custom designed console controllers.. Amazing designs, custom paint schemes, crystal finishes and proprietary technology are what set Gimika controllers apart from the competition. Proudly made in the USA, our custom controllers are built to last and come with a 12-MONTH, 100% SATISFACTION GUARANTEE. Gimika controller shells go through a 6-stage process to ensure quality. Taking nearly 72-hours to construct and paint, our controllers are painted in a p

Unverb. Preisempf.: EUR 159,95
Preis:
Ähnliche Beiträge